(линк ка верзији на српском)
Climathon 2021 - Тhe Most Massive Climate Action
For the third year in a row, Belgrade is a part of the largest collective climate event- Climathon, which brings together 200 cities and 65 countries on all continents in a fight against climate change and environmental protection. In a time when summer heat warns us of climate change and city air reminds us of the lack of greenery, young experts and activists have teamed up to solve a challenge of the city of Belgrade called "Transformation of public spaces - from gray to green. Community support". This challenge requires a systematic approach and work outside of "silos" of one profession, which Climathon Belgrade has provided by gathering twenty domestic and foreign experts (from Great Britain to Nigeria and Bangladesh). They trained competitors to integrate nature-based solutions, green infrastructure development, circular economy, ecosystem services, smart city digital services, crowdsourcing and community work.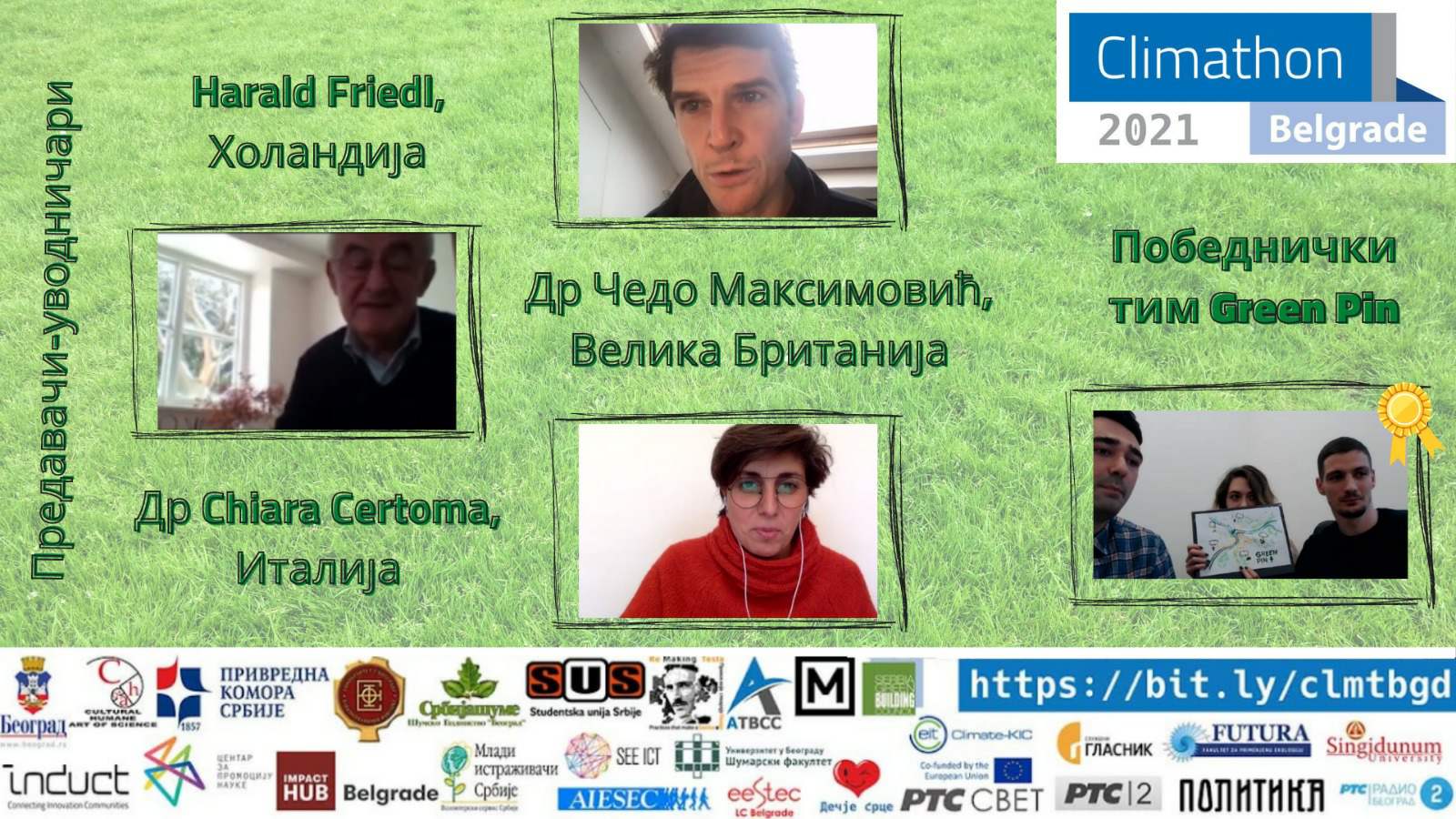 Climathon has enabled young environmentalists and activists who want, but have no way of bringing their ideas to life. It provided training and advice of experts in relevant fields, as well as media visibility for these solutions which the Secretariat for Environmental Protection and local communities can apply.
After two days of hackathon on the 27th and 28th. November, the team "Green Pin" won the first prize with a project "BezOgradizacija", the second prize went to "A team" with the project "Meet the heat", and the third prize winner was "Eko Družina" with a project "Eko škola".
Climathon Belgrade has innovated the process of collaboration on eco-climate activities, enabling the dynamic pairing of mentors with teams in accordance with the expertise required for a particular team project. A novelty towards this goal was the digital tool EcoColabo, which was developed in Belgrade and brought together several European organizations. This will enable the development of ideas and work with mentors and the Secretariat after the event through online brainstorming, networking and business analysis of Climathon projects.
Competitors were guided through creative processes of innovation and integration of knowledge, while connecting scientific and artistic methods. In order to develop project visions, our competitors also co-created the collective Climathon eco-song. They were inspired by the multi-award winning photo-reporter of climate change from Bangladesh, local eco-poets, and poets from Africa who, through pre-Climathon and CoLaboArthon process, wrote climate songs as well. They also competed through fun and educational "climatongizers". Mentioned processes were achieved by integrating Climathon with the international education forum Remaking Tesla.
Climathon is traditionally organized by the ChaOS organisation, with the assistance of Secretariat for Environmental Protection, Chamber of Commerce and Industry of Serbia, Climate KIC, Mikser Organisation, Serbia Green Building Council, The University of Belgrade - Faculty of Forestry and many more academic institutions and partners.
More about Climathon